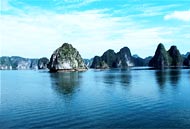 The scenic Ha Long bay
Eight foreign teams from Thailand, Laos, China and Kvazakhstan will compete at the Tuan Chau-Ha Long beach volleyball contest, reported Ho Chi Minh City Sports newspaper.
Each of the four countries will send two teams to the contest to compete with six Vietnamese teams.


The national team, coached by Huynh Thanh Son, will join the contest with Phan Thi Cam Hong and Nguyen Thi Tiep, and Do Thi Hong Loan and Luong Thi Hong Gam.


Winners of the contest will be awarded US$2,500; runners-up, US$1,500 and third-placed, US$1,000.


The organisers will also award the Player of the Tournament and Miss of the Tournament.
(Nhan Dan Newspaper)