Visitor: 79604513
Sympathy abounded and a lot of money was raised for Agent Orange victims during activities held across the country on August 8 in honour of the Day 'For Vietnamese Agent Orange/dioxin Victims'.
Five decades ago, on August 10, 1961, U.S. forces conducted the first spraying mission of so-called "herbicides" or "defoliants," beginning the chemical warfare which lasted for almost 10 years (1961-71). The use of Agent Orange brought about untold human death and suffering, as well as environmental destruction to South Vietnam and surrounding areas. Consequently, this date has become an annual commemoration - the "Day for Victims of Agent Orange in Vietnam" (or "Orange Day") to remind all of us about a major disaster for humanity
The United Nations Development Programme (UNDP) will work with the Ministry of Natural Resources and Environment (MONRE), the Ministry of Defence, and local authorities on a new project called "Environmental Remediation of Dioxin Contaminated Hotspots in Viet Nam", which was launched today in Ha Noi. The USD 5 million project is funded by the Global Environment Facility (GEF) and UNDP, and will be implemented by MONRE with UNDP providing technical support.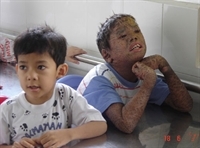 A website www.cuocsongvantuoidep.vn has been set up for people who need to access domestic and foreign benefactors.
The Executive Committee of the World Peace Council has adopted a declaration in support of the Vietnamese victims of Agent Orange/Dioxin and chosen the 10th of August as 'the Day for Vietnamese AO Victims'.
The U.S. Embassy in Hanoi and Office 33, the Vietnamese Government's coordinating office responsible for Agent Orange/Dioxin issues, on September 8 started the fourth three-day meeting of the Joint Advisory Committee (JAC) on Agent Orange and Dioxin, with an effort of the United States and Vietnamese Governments to further deal with the adverse consequences caused by AO.