Visitor: 79604359
Figures on domestic violence tell a sobering story. Domestic violence occurs in about 30 percent of China's 270 million families, says an All-China Women's Federation report. And more than 90 percent of the victims of disputes between couples are wives.
UNITED NATIONS, Dec 15, 2010 (IPS) - At the start of this month, the U.S. Senate unanimously adopted the 'International Protecting Girls by Preventing Child Marriage Act'. Women's rights groups are now urging the Congress's lower chamber to pass it before adjourning at the end of the year.


Thirty years of China's one-child policy has led to Chinese parents finding their lonely, siblingless children friends.


A book on Vietnam's Marriage and Family Law was introduced in Seoul, the Republic of Korea (RoK), on August 13.
The Vietnam Women's Union Central Committee has coordinated with the Spanish Agency for International Cooperation and Development in a project to combat domestic violence.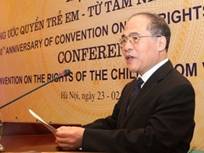 Permanent Deputy Prime Minister Nguyen Sinh Hung emphasised the Government's investment in children is a guarantee of the nation's future.