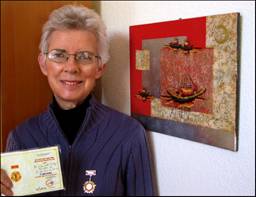 Elizabeth Sibley with the Merit Medal and VWU gift – a lacquer painting of Vietnamese scenery
A love of books and learning made Ms. Elizabeth Sibley join the library profession 38 years ago and she has served in over a dozen different libraries mostly in the San Francisco Bay Area where she lives with her husband Chuck.
But she is better known to her friends in the Vietnam Women's Union as coordinator of the Global Exchange Vietnam Scholarship Program (VSP).
After a trip to Vietnam in 1994, Beth and her husband became donors to VSP started by Bhavia Carol Wagner as a special project of Global Exchange—a US non-profit people to people organization based in San Francisco CA. Beth wanted a more concrete way to show friendship to the Vietnamese people and especially to help provide educational opportunities for disadvantaged children. She began volunteering as co-coordinator of VSP in 2001. Her job is to make sure VSP runs smoothly by communicating and fund-raising among individual donors, transferring annual scholarship money from the US to Vietnam Women's Union, and sending the recipient kids' pictures and thank you letters (which have been translated into English by VWU) to the many donors in the United States.
VSP was founded mainly to assist female pupils in the mountainous and remote areas of Vietnam to go to school. Each girl receives a scholarship worth US$100. Under the supervision of local Women's Union, the recipients use the money for their schooling and income generation activities. After 10 years, a total number of 255 girl pupils from 4 provinces have received a GX scholarship, which for many of them means a turning point in life. This year, the number of scholarship will be the highest so far (43 scholarships compared to the average 30-35 scholarships a year) thanks to the hard-working of Global Exchange fund raisers and generosity of donors. Especially as Beth Sibley is retiring from her job at UC Berkeley, her colleagues offered her $600 as a going away present to be used for the VSP.
Thanks to her valuable contribution to Vietnamese girls' education, Beth Sibley was awarded by VWU the Merit Medal "For the Development of Women" in 2005, together with VSP founder Bhavia Carol Wagner. About to retire in May 2006, she plans to keep busy with several volunteer projects including work with the local chapter of the United Nations Association-USA., Alameda Peace Network, Friends of the Alameda Public Library and continue her devotion to Vietnamese children's schooling.She hopes with more spare time she can help increase awareness and funding for VSP as well as someday return to Vietnam and see all the changes since her last visit and to meet with members of the VWU and some of the scholarship winners.She is grateful for this opportunity to help make a difference in someone else's life and feels quite honored to have received the Merit Medal of Vietnam Women's Union.
Hoai Linh – VWU Int'l Relations Department