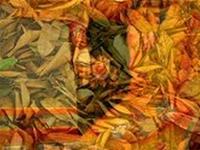 A piece of art works displayed at the exhibition
An exhibition entitled "The Changes of Humans, Objects, Opinions and Thoughts" opened at the Hanoi Museum of Fine Arts on April 26.
This has is the largest exhibition on contemporary arts ever displayed in Hanoi, including 180 works of artists from Asia, Australia, New Zealand and Germany.


Vietnamese representatives are artist Le Vu and curator Tran Luong.


Artists cooperated with each other to discover the inter-cultural reality and cultural integration in the region and to study the changes of humans such as immigrants, students, merchants, boat people, artists, traffickers and tourists, the changes of objects such as goods, materials, food, footwear, drugs and money, and the changes of opinions and thoughts like education, technology, architecture, fashion design, music, arts, films and reminiscence.
Vietnam News Agency