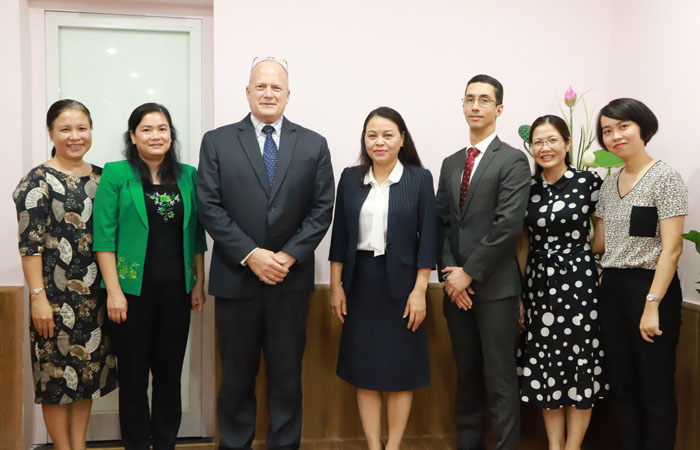 VWU President Nguyen Thi Thu Ha (middle), Mr. Craig Hart (third from left), VWU Vice President Do Thi Thu Thao (in green) at the meeting
On the 12th August 2019, VWU President Nguyen Thi Thu Ha has a working meeting with Mr. Craig Hart – USAID Acting Director.
At the meeting, Mrs. Nguyen Thi Thu Ha was happy to share VWU's experiences in supporting women in economic development with the USAID delegation, including the results of the implementation of the project to support women in business start-up. Over the last two years, the project has received more than 35.670 business ideas and WUs at all levels has provided training and instruction for 33.465 women having business ideas and plans.

Currently, more than 30 percent of the businesses are owned by women. There are 25 female entrepreneur associations established at national and provincial levels with more than 5.000 members who are exemplary female entrepreneurs. At the local level, there are 362 female entrepreneur clubs with thousands of members. The activities of these associations and clubs have helped to connect female entrepreneurs and inspire them in doing business. Besides, The VWU has continued supporting women to get access to credit and develop micro-economy. TYM fund currently has 160.000 customers with total loans of nearly 1.700 billion VND and is piloting the micro-insurance Fund for all TYM's members. The VWU also develops livelihood models creating local jobs for poor, ethnic minority, migrant women and women affected by climate change.

In response, Mr. Craig shared USAID's successes in the project "Enhancing land access for women" and the Mekong Vitality Expanded Alliance which supports women's microenterprise development and business leadership in Vietnam's Mekong Delta region. Mr. Craig highly appreciated the VWU's activities over the past time and was very impressed at the VWU's wide network of more than 19 million members. He also expressed his desire to promote cooperation between VWU and USAID in the upcoming projects to better support women, particularly in developing small women-owned enterprises. The two sides will discuss further on co-designed projects and effective joint activities in the coming time.