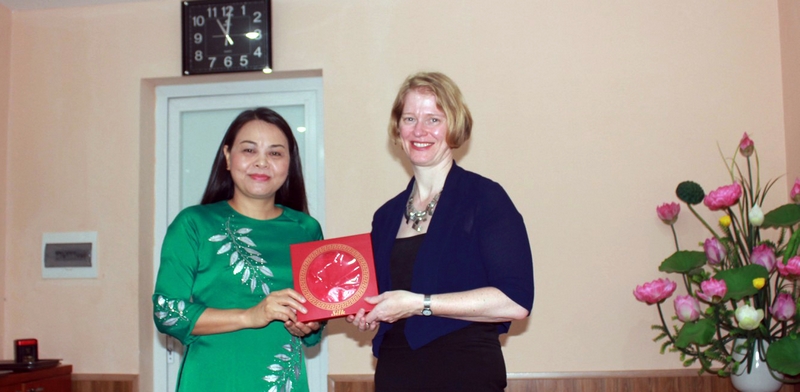 The VWU's President presents gift to New Zealand Ambassador
VWU's President Nguyen Thi Thu Ha had a meeting on the 8th August 2019, in Hanoi to share experiences on promoting gender equality with New Zealand Ambassador Wendy Matthews.
President Nguyen Thi Thu Ha expressed her impression of New Zealand's gender equality achievements, women's empowerment and women in politics promotion. So far, New Zealand has had two female prime ministers, namely madame Helen Clark and Jacinda Ardern. The current Prime Minister Jacinda Ardern is admired by the world for her compassion in dealing with attacks, terrorism and the transmission of the message of love and national solidarity.
Sharing the VWU's work, President Nguyen Thi Thu Ha said, the VWU is focusing on proposing policies; carrying out the supervision and social feedback on issues related to women and gender equality. The VWU actively participated in gender mainstreaming into legal documents such as the Law on Domestic Violence Prevention and Control, the Labor Code (amended) ... Reviewing 10 years implemention of the Resolution No 11/NQ-TW of the Politburo, the VWU made recommendation to the Secretariat to issue the Directive No 21-CT/TW on continuing to promote women's work in the new situation, and to review 10 years implemention of the Law on gender equality within the VWU's system ect.
Women's Union at all levels throughout the country has carried out many activities to support women in economic development, business start-up, vocational training, providing loans for production and business, product consumption, business networking; supporting women victims of violence, abuse, cyber crimes ect. The VWU always pays attention to disadvantaged women including migrant women, ethnic minority people, and ones living in areas affected by natural disasters.
President Nguyen Thi Thu Ha expected that the VWU and New Zealand will cooperate to support women in politics; capacity building; networking, promoting, consuming traditional products, safe production ect. She suggested Ambassador Wendy Matthews connect and support to organize a forum or workshop on trade policies in the context of Vietnam's participation in the Comprehensive and Progressive Agreement for Trans-Pacific Partnership (CPTPP).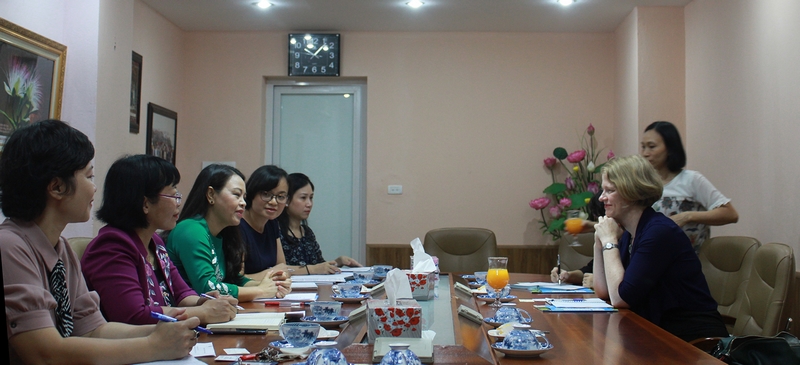 President Nguyen Thi Thu Ha and Ambassador Wendy Matthews at the meeting
Ambassador Wendy Matthews was impressed by the development of Vietnam; sharing New Zealand's policies and activities in supporting and benefiting women and ethnic minority women;interventions to support women of violence; coordinating with Canada in the TPP to encourage women's participation. The Ambassador expressed her commitment to be the focal point to connect the Maori Women Enterprise delegation to visit and seek opportunities to cooperate with Vietnam at the end of the year.
Translate by International Relations Department