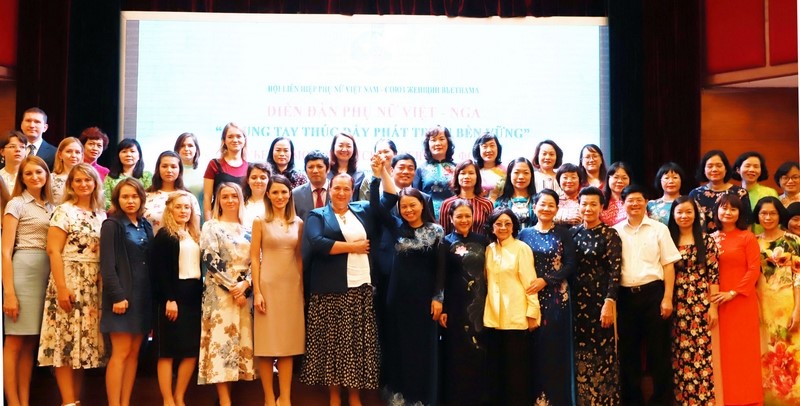 Delegates at Vietnam-Rusian Women Forum
The Vietnam Women's Union (VWU) held the Vietnam – Russia Women's Forum themed "Joining hands to promote sustainable development" in Hanoi on July 22.
The event marked the 25th anniversary of the signing of the treaty on fundamental principles of Vietnam – Russia friendship (1994-2019) and the 70th anniversary of bilateral diplomatic ties (1950-2020).

Speaking at the forum, member of the Party Central Committee and President of the Vietnam Women's Union Nguyen Thi Thu Ha recalled that during wartime, Russia helped Vietnamese women expand ties with their foreign fellows via the world women's movement and raise voice to support Vietnam at forums such as the Women's International Democratic Federation. Vietnam wants to learn from Russia's experience in maternal and child care programmes and via diverse activities at central and local levels, she added. The VWU's President also noted that the cooperation between women from the two countries is an indispensable part in the Vietnam – Russia relations.

At the forum, the delegates also discussed on the issues of common concern, significantly contributing to the implementation of Sustainable Development Goals of the United Nations, such as the role of today's women in cultural development and gender equality in education, people-to-people diplomacy and culture in fostering peace and friendship, women's perspectives on translated literary works, new social challenges, among others.

Ambassador Nguyen Phuong Nga, President of the Vietnam Union of Friendship Organisations (VUFO), expressed her belief that people-to-people and cultural exchange will help further deepen bilateral comprehensive strategic partnership.

Director of the International Fund – The Way for Peace Irina Umnova said the event affords the two countries' women a chance to promote gender equality in education as well as foster peace and friendship. She lauded the VWU's role in women's movement and promoting women's advancement in diverse areas, contributing to national development.
On the sidelines of the Forum, Russian delegates had the opportunity to have a meeting with Mr. Pham Binh Minh, Deputy Prime Minister and Minister of Foreign Affairs of Vietnam; visit the Vietnam Women's Museum and the Exhibition "The friendship of Russia and Vietnam", as well as attend some activities in Hoa Binh province such as visiting Hoa Binh Hydropower Plant - such an age-old construction and a significant mark in the friendship between Vietnam and the Russia, laying flowers at the Uncle Ho Monument,...

Following the event in Vietnam, the Russia-Vietnam Women's Forum is scheduled to be held in September in Moscow and Saint Petersburg, Russia.
Compiled by International Relations Department